ORDER NOW!

CYBERFEMINISM INDEX
by Mindy Seu

The internet is not only a network of cables, servers, and computers. It is an environment that shapes and is shaped by its inhabitants and their use. Edited by designer, professor, and researcher Mindy Seu, CYBERFEMINISM INDEX includes more than 700 short entries of radical techno-critical activism, academic articles, hackerspaces, software education, net art, and more. Both a vital introduction for laypeople and a robust resource guide for educators, CYBERFEMINISM INDEX—an anti-canon, of sorts—celebrates and makes visible cyberfeminism's long-ignored origins and its expansive legacy.

CYBERFEMINISM INDEX is published by Inventory Press and distributed by Distributed Art Publishers and generously funded by the Graham Foundation for Advanced Studies in the Fine Arts, Rhizome, and Feral File, and is made possible in part by the Rutgers University Research Council, Pratt Institute, Pioneer Works, and Cita Press.

CYBERFEMINISM INDEX has been featured in Dazed, Document, Fast Company, Frieze, Brooklyn Rail, Hyperallergic, PIN-UP, and Pioneer Works's Broadcast, among others. It was included in AIGA's 50 Books 50 Covers and has received the Art Director's Club (ADC) Bronze Cube for Publication Design, Type Director's Club (TDC) Certificate for Excellence in Typography.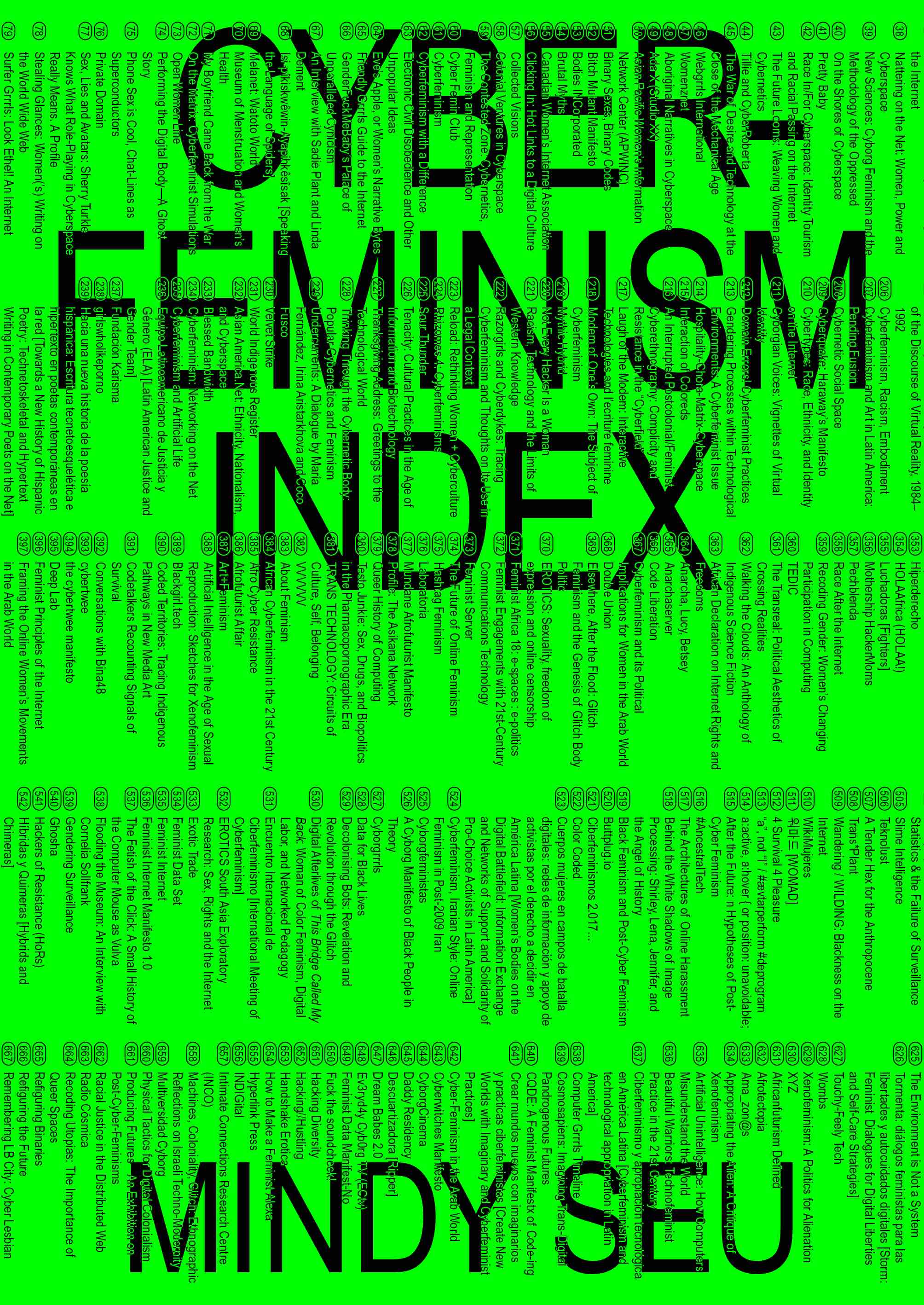 Foreword: Julianne Pierce of VNS Matrix
Afterword: Legacy Russell
Collections: Annie Goh, Charlotte Webb of Feminist Internet, Cornelia Sollfrank, Cyborgrrls, Helen Hester of Laboria Cuboniks, Irina Aristarkhova, Legacy Russell, Klau Chinche (Klau Kinky) of Gynepunk, Mary Maggic, Melanie Hoff of School for Poetic Computation, Neema Githere of Data Healing, Paola Ricaurte Quijano, Skawennati, VNS Matrix

Design: Laura Coombs
InDesign Scripting: Lily Healey
Editing: Andrew Scheinman
Editing Support: Eugenia Bell
Image Permissions: Danielle Wu
Image Permissions Support: Michelle Ding and Lauren Studebaker
Lithography: Marjeta Morinc
AR app: Tommy Martinez
Website Support: Angeline Meitzler




REVIEWS


Mindy Seu has gifted us the extraordinary Cyberfeminism Index, a critical demonstration of the possibilities of techno-social systems informed by feminist discourse. This index of indexes is a compelling counter-narrative to the prevailing histories of tech, and should be required reading for anyone interested in the internet.
—Safiya Umoja Noble, author of Algorithms of Oppression


This invaluable research tool will hugely expand, update, and perhaps even revolutionize the feminist discourse. It might even be considered a work of conceptual art in itself.
—Lucy R. Lippard, author of Six Years: The Dematerialization of the Art Object from 1966 to 1972


This book served as my doorway to cyberfeminism and I now see what an energetic continent awaits me. Anywhere I stepped it burned my hair off, it's that brilliantly intense.
—Kevin Kelly, founding editor of Wired magazine


My index finger scrolls through the pages, the years, the generations of this volume. … The Index is a structure, a register, a pointer, a trigger. The open-ended pages invite the next intervention, variants vivant of ever mutating cyberfeminism.
—Shu Lea Cheang, artist


You can use it as a reference, follow a thread, or just access it at random and it delivers wit and wisdom from over three decades of one of the most politically and intellectually challenging movements of our era. What happens between sexed flesh and gendered tech? More than ever we all need to know.
—McKenzie Wark, author of A Hacker Manifesto


This is an archive perfectly suited to its material: at ease with impermanence, richly appreciative of contradiction, and expansive in scope. Mindy Seu and her cohort of collaborators celebrate the polyrhythmic chorus of voices that have made cyberfeminist thought so delightfully difficult to define—and invite new, kaleidoscopic reinterpretations of our last three decades of life online.
—Claire L. Evans, author of Broad Band: The Untold Story of the Women Who Made the Internet


The Cyberfeminism Index celebrates, troubles, and critiques the histories and futures of struggle against networked patriarchy—from its first libidinous eruptions to tenacious tactical disruptions and mutations. For theorists and hegemony hackers alike the Index offers an inspirational and educational resource for the urgent work of glitching and decolonizing intersectional internets now.
—Ruth Catlow, founder of Furtherfield